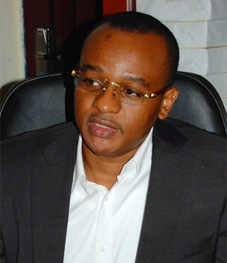 Hamza Nasko
Chairman / CEO
Hamza Nasko is the Founder, Chairman and CEO of HMG Group. He is a degree holder in Metrology with vast experience in property development, construction and international transactions. His ability to diversify in business has turned the company into the successful conglomerate it is today. The medical sector has been his most recent venture with HMG GmbH, A German based company he founded responsible for delivering world class medical services.
As a Philanthropist, Hamza believes in giving back to the society. A Co-Founder of The ACT Nigeria foundation, a privately funded charity to further the education of several children from poor homes in his local community, he is also a founding member of the Kungulu Talaka Aid Foundation, a Nigerian NGO dedicated to enhancing the living conditions of the less privileged.
Hamza's acute vision, determination, professionalism and business ethics continues to drive HMG Group towards greater accomplishments.
AWARDS
London Graduate School (Honorary Doctorate Degree) - 2015
Project Adviser, Conflict mitigation and Peace Building project in the States of Bauchi, Nasarawa, Taraba and Kaduna (A US Embassy/Nigeria Joint Project with Arewa Youth Forum) - 2014 to December 2015.
National Association of Polytechnic Student (NAPS) (Ambassadorial Symbol of Youths/Students Empowerment and Philanthropy in Nigeria – 2014
African Business School (Fellow of African business School (FABS)) – 2014
Young CEO Business Summit Dubai (Global Corporate Governance) – 2014
African Achievers Award (youth achiever of the year 2014)
Capital Territory Achievers Award (Business Personality of the Year) – 2014
Federal capital advancement award (business personality of the year) – 2014
Joint Northern Youth Association – 2014
Arewa youth forum (sterling youth entrepreneur of the decade) - 2014
African Youth Society – 2013
Legacy Monitors Kaduna – 2013
Baseline Global Ventures (Distinguished Merit Award for Excellence) - 2013
Nigerian Youth Organization (Fellow of the Nigerian Youth)
African Youth Society (Grand Patron of the Emblem of Africa (GPEA))
Global Foundation for Unity, Peace and Development (Distinguished Leadership and Meritorious Service Award)
The True Voice of Patriots Foundations(Dignified Patriot of the Year Award)
Global Education and Public Literacy Foundation (Grand Officer of the Academy of Knowledge Award)
Global Environment and Rural Integration Foundation (The Consummate Community Leader Award)